Property owners, fed up with the hassle of insurance claims and then not getting paid what they deserve, now have an alternative. Professional Claims Solutions, serving clients in multiple states, we take the anxiety out of the claim presentation process.
Do you really feel that your insurance company wants to pay you top dollar when you have suffered damage to your home or business? If your answer is "NO" then before you do anything else call 423.400.1149 and talk to David J. Van Puffelen, Public Adjuster. We offer a FREE consultation to see how we can help you.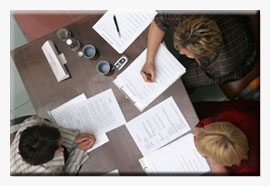 A major insurance company employed me for almost nineteen years, much of it in a supervisory and management capacity. The company trained me to adjust losses and determine damages from their perspective and to their advantage. Now I use that experience to determine your damages and your full recovery.
Serving as an arbitrive party between the property owner and the insurance company, Professional Claims Solutions can make the difference between the minimum amount that the insurance company offers and the maximum amount that the property owner is entitled to. Professional Claims Solutions claims adjusters are state licensed and extensively trained to ensure that the property owner gets the fair settlement that they deserve.
| | |
| --- | --- |
| | |
Summary of Services
1. Complete a precisely detailed estimate of what is required to repair or rebuild your premises.
2. Using the policy as the basis for claim presentation, assist in the completion of inventories on your damaged personal property or business property, contents and and all additional applicable related damages. With your helping providing documentation as required by your policy, a qualified professional Public Adjuster can evaluate and establish all damages for which you are entitled to recover.
3. Prepare your Time Element Losses, such as Business Interruption, Loss of Rents, or Additional Living Expenses.
4. Establish a professional line of communications with the insurance adjuster.
5. Present estimates, inventories, and other valuations to the insurance adjuster.
6. Meet with the insurance company to adjust your claim fairly and equitably, thus resulting in an acceptable settlement to you.
7. A Public Adjuster works for you; on your side, to achieve these results.
| | |
| --- | --- |
| | |